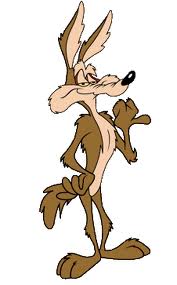 Wile E. Coyote (also known simply as "The Coyote") and The Road Runner are cartoon characters from a series of Looney Tunes and Merrie Melodies cartoons. The characters (a coyote and a greater roadrunner) were created by animation director Chuck Jones in 1948 for Warner Bros. While the template for their adventures was the work of writer Michael Maltese. The characters star in a long-running series of theatrical cartoon shorts (the first 16 of which were written by Maltese) and occasional made-for-television cartoons.
Ad blocker interference detected!
Wikia is a free-to-use site that makes money from advertising. We have a modified experience for viewers using ad blockers

Wikia is not accessible if you've made further modifications. Remove the custom ad blocker rule(s) and the page will load as expected.